Serie A: The grade received by Radu Drăgușin after the three-point goal in the match against Verona
Radu Drăgușin scored the only goal of the game between Genoa and Verona (stage 12 of Serie A), and the Romanian defender's performance was praised by the Italian press.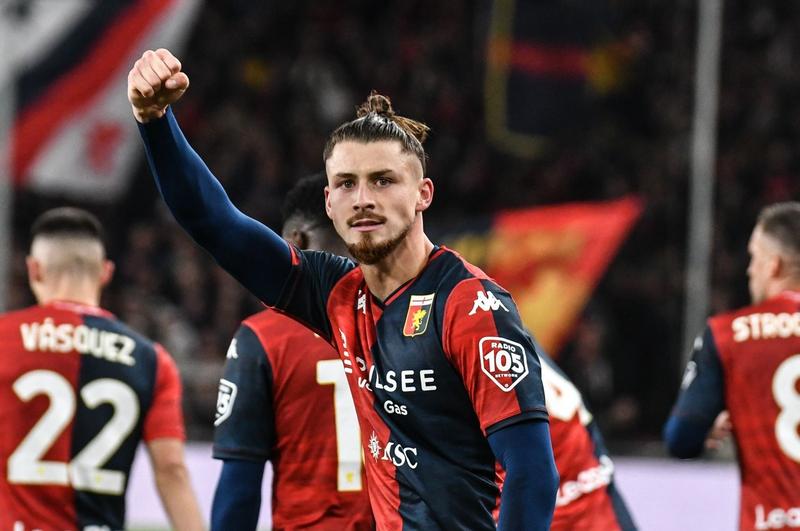 Radu DragusinFoto: Andrea Amato/IPA Sport/ipa-agency.net / Shutterstock Editorial / Profimedia
>> VIDEO Radu Drăgușin, the first goal scored for Genoa in Serie A
Radu Drăgușin, grade 7 after scoring in Genoa – Verona 1-0
The Romanian international scored in the 44th minute. Remaining on the offensive after a set phase, Radu received a pass over the opposing defense and shot from the first volley, without hope for the goalkeeper Montipo.
Drăgușin was rated 7 by Tuttomercatoweb and Gazzetta Dello Sport, and several publications named him the player of the match.
"Sent into the attack as an occasional striker, he sent an excellent volley straight into the goal. The first goal in Serie A brings three points" – Tuttomercatoweb.
"Radu Drăgușin launched a powerful volley, on foot, in the short corner of the Verona goal" -​ Football Italia.
"Defensively he has little to do, so he decides to break the monotony in the first half with a goal on the volley like a full-blooded striker. It is the goal that brings the three points to Genoa" – GenovaToday.
The game ended 1-0 thanks to his success, and Genoa climbed to 13th place in the table.
Aged 21, Radu Drăgușin is valued by Transfermarkt at 10 million euros.
*Drăgușin's goal can be seen at 00:43.
Series A, stage 12
Sassuolo – Salernitana 2-2
Genoa – Verona 1-0
16:00 Lecce – AC Milan
7.00pm Juventus – Cagliari
9.45pm Monza – Turin.
1.30pm Naples – Empoli
16:00 Udinese – Atalanta
16:00 Fiorentina – Bologna
7.00pm Lazio – AS Roma
21:45 Inter – Frosinone.
Serie A standings
1. Inter (27-6 goal difference) 28 points
2. Juventus (17-6) 26
3. AC Milan (18-12) 22
4. Napoli (24-12) 21
5. Atalanta (19-10) 19
6. Bologna (12-8) 18
7. AS Roma (22-14) 17
8. Fiorentina (18-15) 17 etc.